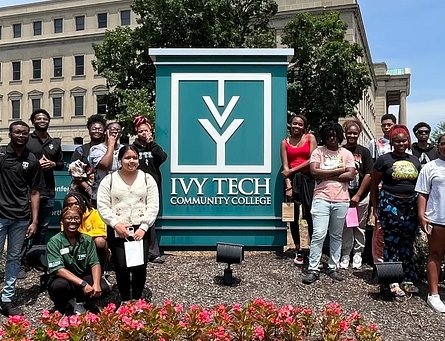 Ivy-Tech Indianapolis TRiO Upward Bound Day of Service
Students distributed the care packages to individuals driving near the local campus. During the intial distribution, community members were skeptical of the service offering. Many belived the students were soliciting and selling candy. Some thought the student were requesting money for a fund raiser. For those who stopped to listen to the student(s) about sharing acts of kindness. Recieved a care package which contained a $15 gift card and a personal messeage from the student. Many after looking within the package had a smile on their face. Seeing the joy both students and the community shared in this moment was completely impactful. Thank you to the wonderful staff and students of the Ivy Tech - Indianapolis TRiO Upward Bound Progarm for there participation!
Indianapolis Acts of Kindness
June 30th,2023
The Society of Aspiring Minority Engineers Inc. participated in a Day of Service partnered with Ivy Tech Community College Indianapolis TRIO, Upward Bound Program.

Our very own Josiah Hankerson and Larry Jones III talked to students about the importance of random acts of kindness and the spirit of given. Students distributed care packages filled with personal inspirational messages and gifts cards, supplied by SAME, to individuals within the community. The event was held on Ivy Tech Indianapolis Community College campus on June 30th, 2023. Students were completely inspired the service objective. To the point of donating and sharing more within the care package. Seeing the joy both students and the community shared was completely impactful.